A Guide to Exhibiting at Birmingham's NEC
Birimingham's NEC (also known as the NEC group) is the UK's number-one choice for organisers, exhibitors and visitors. With its 18 exhibition halls and 32 conference suites, the NEC can host a variety of shows and expos- ranging from wedding displays to advanced engineering meet-ups.
A bit about the NEC
Birimingham's NEC (also known as the NEC group) is the UK's number-one choice for organisers, exhibitors and visitors. With its 18 exhibition halls and 32 conference suites, the NEC can host a variety of shows and expos- ranging from wedding displays to advanced engineering meet-ups.
Each event attracts around 2.3 million visitors year on year and plays host to over 45,000 exhibiting companies.
Tickets vary in price, with many being completely free- drawing visitors to the site and your event.
You can connect with events through Facebook, Twitter, Linkedin, Instagram and YouTube, allowing you to promote your event on multiple social media channels for maximum exposure.
Why exhibit at Birmingham's NEC?
The NEC is located in the heart of Birmingham and hosts many amenities, making it the ideal spot to exhibit and visit.
Accessibility: The NEC campus can be accessed from the M6, M5, M42 and M40 networks. It is also positioned close to Birmingham Airport and Birmingham International Train Station.

On-site, Free Shuttle Bus: The NEC provides a complimentary shuttle bus service connecting all parking areas to the exhibition halls. These shuttles typically run an hour before the event's start and continue for an hour after it finishes. It's important to factor this in when planning setup and breakdown times. Here's the best part: if you partner with Unique Exhibitions, we take care of the entire process, from the initial design to the setup and dismantling of your booth. This comprehensive service saves you time and eliminates all the associated hassles.

Parking: With a range of parking options, your needs are catered to. For information on charges, passes and opening times, use the NEC's parking guidance. For event delivery parking and details, follow the link.

Close to the City Centre: It's approximately 14 miles by car or a 10-minute train ride from the NEC to Birmingham centre, buses are also available from Birmingham International Rail station- meaning that you are not limited to the entertainment and hospitality of the NEC.

Host of Accommodation: From luxury resorts to simple rooms, you'll find a host of hotels right on our doorstep. Use the NEC's Visitors page to book.

Catering: Restaurants and coffee shops can be found throughout the NEC campus (including in your event hall). From Sky By The Water to the Gourmet Burger Kitchen to TGI Fridays or Nandos, the NEC has your tastes covered. For more information, use the following link.

On-stand Hospitality: At the NEC, stand hospitality is available. Further information can be found by getting in touch with the NEC.

Accessibility for Disabled Visitors: The NEC is accessible to all. Further information can be found on the NEC's Accessibility page. Mobility equipment is available to hire on a first-come, first-serve basis. Wheelchairs are available free of charge for blue badge holders and £5 for all other visitors, although these are limited. Scooters are available for hire for £15. All mobility equipment is only available during show opening times, with only card payment accepted.

Free Wi-Fi: Free Wi-Fi at the NEC means you can browse the web, check emails and promote your exhibition. However, if Wi-Fi is required for your exhibition stand, get in touch with the NEC venue services team.

Electric Car Charging Points: There are 22 conveniently placed EV slow-charging points. This free service operates on a first-come, first-served principle, with a distribution of 14 points spanning across various car parks, with two located in North 2, six in East 1 and a further six in South 7. There are also 8 pre-spaces in Express 1 (charges apply), for those wanting to guarantee a spot. Normal parking fees apply and the charge points require a type 2 connector lead and the use of the Centrica EVS App downloadable from app stores.
Exhibition stand hire at Birmingham's NEC
Selecting the right exhibition contractor is a pivotal decision for the success of your event. This choice is not just about constructing a booth; it's about crafting an immersive and engaging experience to enhance brand awareness.
With over 16 years' worth of experience of exhibition stand hire, Unique Exhibitions has the creativity and technical expertise to bring your vision to life. We navigate every stage of the process, from design to installation and removal, with precision and professionalism. Each project will be assigned its experienced project manager, who will guide you through the following:
Our process as multi-award-winning exhibition stand builders:
Approval. Before we go into the manufacturing process, we'll collaborate closely with you to create an exhibition stand that resonates with your vision.
Communication. Regular updates give you the chance to give feedback and ask questions.
Paperwork. Your project manager will handle all paperwork, including complicated health and safety forms and risk assessments.
Amenities. We'll advise on all the amenities required for a seamless exhibition day, such as electricity, water and WiFi.
Transport. Leave the transportation logistics to our capable team. We'll handle the packing and safe transport of your exhibition stand.
Installation. Our seasoned events team will be right there with you, taking care of the setup and dismantling of your stand; allowing you to focus on what matters most, your exhibition.
Planning & designing your exhibition stand
Careful planning ensures that your objectives are crystal clear, whether it's about brand exposure or product launches. The design itself, from layout to aesthetics, plays a pivotal role in attracting visitors and engaging them; leading to how successful your exhibition is.
Clear Objectives: Start with defined goals to steer your stand's design and messaging, whether it's brand awareness or product showcasing.

Audience Insight: Understand your audience's needs, preferences, and challenges to tailor your stand's design and content for maximum resonance.

Distinctive Branding: Ensure your branding is unique and instantly recognisable, creating consistency in colours, logos, and messaging.

Eye-Catching Graphics: Invest in high-quality visuals that grab attention and convey your message effectively.

Interactive Storytelling: Craft concise and compelling content that communicates your value proposition, with a memorable slogan or tagline.

Human Engagement: Embrace face-to-face marketing, balancing technology with personal interactions to create genuine connections.

Strategic Lighting: Utilise proper lighting to accentuate aesthetics and spotlight key areas or products.

User-Friendly Layout: Design a stand layout that encourages smooth flow and exploration.

Tech Integration: Leverage technology for lead capture, data collection, and visitor engagement, using apps and scanners for efficiency.

Captivating Giveaways: Offer unique, audience-specific giveaways that entice booth visits and leave a lasting impression.

Pre-Event Promotion: Generate anticipation through social media and email marketing, scheduling appointments with potential leads.

Analyse and Adapt: After the event, evaluate your performance against objectives, using feedback and data to refine your strategy for future exhibitions.
How to get to the NEC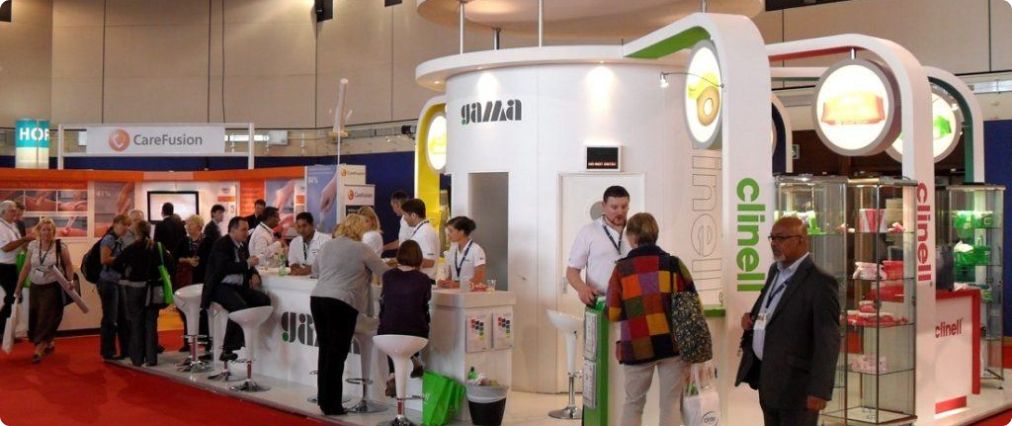 By Car:
From major motorways and routes, including the M42, M40, and M6 - input B40 1NT into your GPS to reach the NEC Site. Once you're on-site, discontinue using your Sat Nav and follow the guidance provided on the digital screens leading you to the appropriate parking areas. Relying solely on your GPS may not direct you to the exact event car park, so it's essential to follow the on-site signage for accurate guidance. After parking, you can use the free shuttle bus or walk along the marked footpaths.
Diverse parking options are available to cater to your specific needs. For details on charges, passes, and opening hours, you can explore the NEC's comprehensive parking guidance via the link: NEC Parking Information.
By Train:
Direct services run throughout the day, although if travelling from further afield you may need to catch a connecting train at Birmingham New Street, which is less than a 15-minute journey away.
The NEC is located a five-minute covered walk from Birmingham International Railway Station. Follow signage from the Piazza concourse past Hall 2 and up the escalator to the bridge link - which directly links to the railway station.
By Bus:
Connecting from Birmingham Airport to the NEC is easy with the free air-rail link, a quick 90-second ride that operates every two minutes.
For those opting for a West Midlands bus ride, you've got numerous choices to reach the NEC. To plan your journey effectively, explore the comprehensive transportation options provided by the Network West Midlands.
By Plane:
Hop on the free air-rail link to Birmingham International Railway Station, conveniently positioned on the upper level of Terminal 1. The train arrives every two minutes, completing the journey in just 90 seconds. On arrival, go straight through to the NEC.
By Bike and on Foot:
For access via bike and on foot, use the shared cycle footpath route to Birmingham International Railway Station and then the NEC is a short walk from there, it should take you about 10 minutes.
Best accommodation for NEC exhibitors
For a comfortable stay while attending events at the NEC, you have a range of options to choose from. The Hilton and Crowne Plaza Hotels are conveniently located just a short walk away from your event, offering excellent accommodations. The luxurious 4-star Genting Hotel is also in close proximity.
When you're considering your visit to upcoming events, the NEC provides valuable guidance (https://www.thenec.co.uk/visitors/) on local hospitality and the surrounding area.
Things to do when you're not exhibiting
When you attend an event at the NEC, you're in for an immersive experience that goes beyond business. From daytime conferences to evenings filled with leisure and dining, the NEC is a destination that's not to be missed.
Resorts World Arena: This venue is where the UK's finest live music, comedy, and entertainment acts converge. Check out the packed event schedule or secure your ticket to any of these sensational shows.

Santai Spa at Resorts World: For a well-deserved treat, before or after your event, pamper yourself at Santai Spa. From a state-of-the-art swimming pool with hot-stone loungers to an outdoor hot tub overlooking the lake, indulgence awaits.

Culinary Delights: The NEC campus caters to all your dining needs. Whether you're in the mood for a quick bite, champagne for a special celebration, or the ultimate dining experience, there's a range of options. From Sky By The Water to Gourmet Burger Kitchen, TGI Fridays, or Nandos, you'll find something for every palate.

Retail Therapy: Treat yourself to a little outlet shopping at Resorts World. Discover brands like Nike, Next, and Kurt Geiger. Event delegates can also enjoy extra discounts at many of Resorts World's outlet shops, bars, restaurants, and more with a complimentary VIP card.

Casino Excitement: Dive into a world of entertainment and glamour at Resorts World Casino. Learn to play a variety of games, from Roulette to Baccarat, or catch live sports events from around the world at the Sports Bar. Over 18s only.

Cinematic Bliss: Experience the magic of cinema on the big screen at Cineworld within Resorts World. With eleven screens, state-of-the-art digital technology, and a custom-built IMAX™ screen, it's the ultimate destination for catching the latest blockbusters.
Travelling from the NEC to Birmingham city centre is a breeze, with a convenient 14-mile car ride or a quick 10-minute train journey. There are buses accessible from Birmingham International Rail Station. This means that while the NEC offers a world of entertainment and hospitality within its premises, you're just a stone's throw away from the vibrant heart of Birmingham for even more experiences. Explore more at NEC Visitor's Page.
Major exhibitions held at the NEC
Our top exhibition picks for the rest of 2023
November
Advanced Engineering 2023 (1-2 Nov 2023)
Lab innovations (1-2 Nov 2023)
Saltex 2023 (1-2 Nov 2023)
Simply Christmas (2-5 Nov 2023)
The Creative Craft Show (2-5 Nov 2023)
Bake International (3-5 Nov 2023)
Cake International (3-5 Nov 2023)
Automotive Management Live (9 Nov 2023)
Lancaster Insurance Classic Motor Show (10-12 Nov 2023)
Family Attraction Expo (15-16 Nov 2023)
Leisure Food and Beverage Expo (15-16 Nov 2023)
Festive Gift Fair (16-19 Nov 2023)
Mind Body Spirit Festival (17-19 Nov 2023)
Motorcycle Live in Association with Bikesure (18-26 Nov 2023)
BBC Good Food Show Winter (23-26 Nov 2023)
The 2023 Warley National Model Railway Exhibition (25-26 Nov 2023)
December
Christmas Party World 2023 (29-23 Dec 2023)
Classic Antiques Fairs (1-3 Dec 2023)
The Super Weekenders 2023 (1-3 Dec 2023)
Frequently Asked Questions
Can I leave my car at the NEC overnight?
When you arrive, talk to the NEC traffic team, as it may be possible to leave your commercial vehicle overnight, although not for every show. Spaces are often limited and subject to availability. Overnight sleeping in commercial vehicles is not permitted, use our guide to see places to stay.
How many halls does NEC Birmingham have?
NEC has 18 halls in total.
What is the address of NEC Birmingham?
Pendigo Way, Marston Green, Birmingham B40 1NT. If arriving using SAT NAV, turn this off as you get to the site and follow the signs displayed.
How much does it cost for exhibition stand hire at NEC Birmingham?
At Unique Exhibitions, we specialise in crafting custom, hybrid, and modular exhibition stands that are tailored to your unique needs.
With our competitive price-points, you can relish the advantages of a custom-designed stand without breaking the bank or encountering any of the usual hassles.
What are the benefits of exhibiting at NEC Birmingham?
Exhibiting at the NEC offers a multitude of benefits that set your event up for success. With world-class facilities and a central location, your audience is easily accessible. Their state-of-the-art technology and flexible event spaces empower you to create unforgettable, immersive experiences for your visitors.
Unique Exhibtion's expertise in stand design to set-up and removal, ensures your experience is smooth and rewarding. <a href="https://www.unique-exhibitions.co.uk/contact">Get in touch</a> today for a FREE no-obligation quote