Exhibition Stand Builders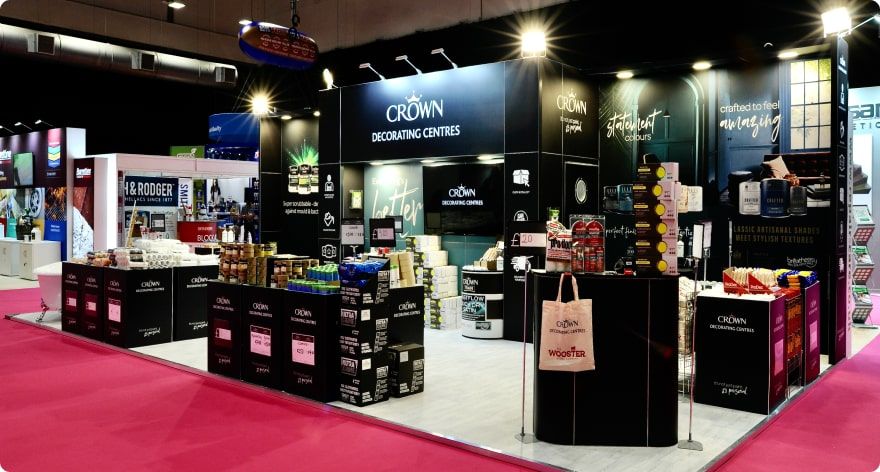 How can Unique Exhibitions enhance your brand's visibility? 
Unique Exhibitions are bespoke exhibition stand builders, specialising in custom, hybrid and modular exhibition stands.
Choosing an exhibition stand from us means you can enjoy the benefits of a custom stand at a competitive price point with none of the hassle.
How do we make this possible? It's all thanks to our extensive inventory of premium exhibition stand components, meticulously crafted by our skilled team. Our all-inclusive packages and in-house project managers ensure a seamless process from initial design to installation and removal- leaving you time to focus on what matters most, your exhibition!

Unlock the Advantages of Using a Single-Stand Building Partner Across the UK
When it comes to creating an exceptional exhibition stand that leaves a lasting impression, opting for a single stand-building company that manages the process from start to finish is a game-changer. Here are some compelling reasons why:
Streamlined Communication:

With a single point of contact, communication becomes seamless. No more juggling between multiple contractors; you can easily convey your vision and requirements to us, as one dedicated team.

Consistency in Design:

As a single company, Unique Exhibitions ensures design consistency throughout your exhibition stands, maintaining a strong and recognisable brand image across various events.

Cost-Efficiency:

Consolidating services under one provider often results in cost savings. We'll provide you with a clear overview of your budget, minimising surprises along the way.

Eye-catching graphics:

Working with us streamlines the project timeline. Everything from design to setup is coordinated efficiently, reducing turnaround times.

Reduced Stress:

Simplify your exhibition planning by eliminating the need to manage multiple contracts, invoices, and schedules. We take care of it all.

Comprehensive Expertise:

As a reputable stand-building company, we bring a wealth of expertise under one roof, from design and construction to logistics and project management.
As for our reach, we're not limited to one location. We operate across the UK, ensuring that you have access to our exceptional services no matter where your exhibitions take you. So, experience the benefits of a single stand-building partner and elevate your exhibition presence with ease and efficiency, all while enjoying the convenience of nationwide service. For a no-obligation quote, contact us today.
Our process as multi-award-winning exhibition stand builders: 
1

---

Initial Brief and Advice: It all begins with your initial brief, where we discuss your exhibition goals and requirements.

2

---

Design and Approval: Our talented designers create a bespoke exhibition stand tailored to your brand.

3

---

Manufacturing: Once approved, we use high-quality materials and craftsmanship to create a bespoke exhibition stand.

4

---

Paperwork and Compliance: Your dedicated project manager will take care of all necessary paperwork. This includes health and safety forms, risk assessment and any required permits for the exhibition day.

5

---

Amenities and Logistics: We offer guidance on essential amenities for your exhibition day, such as electricity, water and WIFI. Our team ensures that all logistical details are addressed so you can focus on your show preparations. 

6

Transport and Setup: We pack and transport your exhibition stand to and from the event location. Our on-site events team handles the setup and dismantling, leaving you free to prepare for your exhibition.
Our customers choose us as a result of our innovative designs, adaptability and wealth of knowledge. With our array of exhibition stands, we help you gain maximum brand exposure for your company. We're the full package with our competitive price points and in-house design, printing, manufacture and installation. Let us take your exhibition stand to the next level, contact us today for a FREE no-obligation quote and design!
Why choose Unique Exhibitions as your exhibition stand builders? 
"To meet the objectives of our client, Easytrim, we conceptualised a captivating Vegas-themed stand that symbolised a commitment to using British manufacturers and not gambling with foreign suppliers. This hybrid exhibition stand blended modular and bespoke elements, showcasing our craftsmanship. We manufactured a slot machine, bespoke blackjack and roulette tables, even etching logos into the carpet. A 'Welcome to Vegas' sign and specialised lighting transformed the space into a vibrant pretend casino. A branded rig was also incorporated into the design."

"Veka wanted to feature their wide selection of windows and doors. We created a fully customised stand tailored to their precise specifications, including bespoke windows, frames and an inviting meeting area. Enhancing brand recognition was a priority so we incorporated a branded rig and illuminated 3D logos for maximum impact, to further elevate the brand's presence."

"Forrest desired to evoke a cosy coffee shop ambience, complete with customised booths and a comfortable breakout space. Our team meticulously designed a unique stand to fulfil these aspirations. To achieve the desired atmosphere of semi-private booths, we employed acrylic frosted logos on both the front and sides of the stand, ensuring the perfect look and feel."